February 26th, 2017
WEEKEND THOUGHTS – SUNDAY
Sunday, February 26, 2017
==>Please scroll down for the DAILY THOUGHT <==
Yes, I check my horoscope. And let's be honest…so do you. But when I check in on my Leo self, I visit astrologist Phil Booth's site!
~ George Stroumboulopoulos
Here's a clip of one of my Interviews on Strombo's CBC TV Show:
—————————————–
LIVE PERSONAL ONE-TO-ONE ASTROLOGY SESSIONS
Tune into the power of the Stars and you will discover a way to master your challenges and turn your dreams into reality ● Astrology can connect you with your CREATIVE CORE and liberate you from the grip of self-doubt. Say goodbye to fear and hello to CERTAINTY & COURAGE!
TORONTO OFFICE
Meet in person at my downtown Toronto office.
INTERNATIONAL CLIENTS
If you live further afield, no problem! Meet me from anywhere in the world on skype or by telephone.
Please email me for further details: phil@boothstars.com.
—————————————–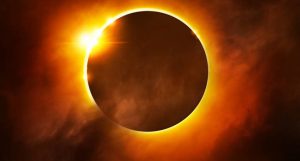 BOOTHSTARS DAILY THOUGHT
Sunday, February 26, 2017
NEW MOON DAY & ANNULAR SOLAR ECLIPSE
Life is moving in the fast lane. The world is changing at an shocking rate. Forces of negativity are strong in the world, but they can't thwart your progress. You are being directed onto a straight road to happiness and fulfilment.
Today, the Moon will move into the centre of the golden orb of the Sun, but will not totally eclipse the Sun – nearly, but not quite. The outer edge of the Sun will shine as a thin ring (annulus) around the Moon. It's called an Annular Solar Eclipse aka a Ring of Fire. Prepare to leap through this Ring into a new world of opportunity where you will gain the power to turn your dreams into reality.
You are an impeccable warrior. You are invincible. Your craving for a better life will propel you to success.
The actual thin path of annularity will be confined entirely to the Southern Hemisphere. It will start over the South Pacific Ocean and then cross through southern Chile and Argentina, then on across the South Atlantic Ocean. It will finally end in Africa in Angola, Zambia and the Congo.
A much wider geographic area north and south of the path of annularity won't see the Ring of Fire, but they will see a Partial Eclipse. This will encompass a much larger area of South America and Africa, and will extend right down into Antarctica.
The greatest moment of eclipse will occur midway between the continents at 14:52 GMT / 09:52 ET.
——————————–
When you arise in the morning, think of what a precious privilege it is to be alive – to breathe, to think, to enjoy, to love.
~Marcus Aurelius (Roman Emperor from 161 to 180 AD)
He who lives in harmony with himself lives in harmony with the universe.
~Marcus Aurelius (Roman Emperor from 161 to 180 AD)
——————————–
—————————————–
The video below is a sample of some of my own personal videos. I will get them rolling again very soon.

Astrology Reports
For an in-depth, detailed and very personal look at yourself, you'll find these computer generated reports very helpful. They are based on your own personal cosmic finger print – that is, your date, time and place of birth. These profound and penetrating reports are the best horoscopes available world-wide. You will be impressed by the clarity and depth of these comprehensive and accurate interpretations.
—————————————–
If today is your birthday
Jupiter/Zeus is watching over your welfare from the peak of Mt Olympus. It's been noted that you have been neglected for far too long. Your plight has now finally come to his attention. He's sending Hermes down to our earthly plane to inspire you with a clever stratagem to beat a particularly frustrating dilemma. Your journey through a long dark tunnel is over. Light is now clearly discernable in the distance. This year ahead for you marks the dawning of an era of happiness and serenity that will heal your pain and open the door to living the life you've always wanted to live.
Happy birthday to:
Michael Bolton, 63 ● Fats Domino, 89 ● Recep Tayyip Erdogan, 63.
Born today:
Johnny Cash (1932-2003 ● Victor Hugo (1802-1885) ● Jackie Gleason (1916-1987) ● William Frawley (1887-1966) ● William F. "Buffalo Bill" Cody (1846-1917) ● Tony Randall (1920-2004) ● Tex Avery (1908-1980) ● Levi Strauss (1829-1902)
We are all born with a distinct purpose and an exciting destiny waiting to be fulfilled, but the deafening din of this mad world makes it virtually impossible to correctly get our bearings.

If you need an objective view of a burning issue or require advice in making a major decision, the ancient wisdom of astrology can provide guidance.

With your Date, Time (if you have it) and Place of Birth you can order an Astrology Report or book a Live Personal Reading with Phil.

For more information click on the two buttons below—